Overview:
Mahou Arms is an Anime-inspired character-action Hack And Slash that tells the story of a magical girl paramilitary group fighting back against an alien invasion.
The human race is on the brink of total subjugation by the alien force known as the 'Locks. GARDA, a global paramilitary organization has finally discovered the means to fight back: magical girls. You are a commander at GARDA and a past prisoner of war.
You must lead your small, ragtag group toward victory at all costs. Get to know your newly recruited "soldiers" on the base and take direct control on the battlefield to reclaim Earth. Good luck, commander.
Trailer
Thread Updated: 2023-04-30
Release Date: 2023-03-18
Developer: Paperbag Patreon – Discord – Twitter – Tumblr – Youtube – Website
Censorship: Yes (need patch for uncensor)
Version: 0.3.1581 Cracked
OS: Windows
Language: English
Stores: Steam – Sekai Project – Denpasoft
Genre:
Installation:
1- Extract to desired location.
2- Click on "launcher.exe" to install and play.
Changelog:
Chapter 4 Build (0.3.1146)
As mentioned in our
previous announcement
, Chapter 4 releases today! There's a big changelog in that post, but we managed to squeeze a couple more tweaks and fixes into the build. The additional changelog is below. Have fun!
Screen Weather Effects setting added to Graphics Settings
Graphics settings grouped
Fix: various out-of-bounds bugs
Fix: transforming and shooting enemies with guns, then transforming back will get Amelia stuck facing the enemy she shot until another attack is executed
Fix: pressing jump and light attack at the same time no longer gives Amelia an undesirable amount of height
Fix: Collision spot for the golden key at the parking lot on Chapter 4 persists after picking it up
Fix: Carnassus's swords spawning attack sticks to the ground better
Fix: Carnassus's encounter no longer has cars where she can get stuck
Fix: Turret enemy can't get up after certain attacks, and cannot be launched with launch attacks
Fix: Amelia can move while loading saves
Fix: Sounds can be heard during initial loading
Dialogue portraits added to Extra Mission 1
Various UI Fixes
Various Sound Mixing fixes, especially during loading
Probes in Ch.4 Boss Stairway removed
Fix: Extra Mission 1 Player Spawn was set to wrong place
Fix: Dining Room Alien Key Meshes invisible
Some optimizations to CPU thread related to fetching enemies
Fix: Probe's ball attack gets stuck when cutscenes start, sometimes sticks to walls
Fix: The massive syringe outside the stairs to the Gold Baroness sometimes disappears
Tweaks to item spawn rates
v.0.1.616
Is now available via the
Launcher
! (
Censored
and
Uncensored
builds now use the same numbers)
Biggest update for this build is the inclusion of Story Mission 01.
Changes since last Bleeding build:
Hitstops
Camera code overhaul
Autocamera mode (activated on camera reset and after a while of running around without input)
New Lockon Behavior (Instructions in Inputs Doc)
Huge CPU performance optimizations for characters & enemies
Inventory system
Quests system (currently unused in this build)
Item chests
Enemy Item Drops
New hit effects
Combat adjustments
AI adjustments
Balance adjustments
Changes since last Public build:
All of the above
Transformation System
Story Mission 01 + Turret Enemy
Gallery Mode (WIP) (Uncensored builds only)
New HScene in Gallery (Uncensored builds only)
Various lighting tweaks
Known Issues:
Healing with items doesn't show the HP bar in menus
Healing doesn't automatically cap when the player's health is full
Healing shows damage particle effect
Hair physics are a little broken. In the process of adding an accessory system at the moment, so this will be fixed after that.
Enjoy! If you have any feedback, make sure to leave it on our discord channel.
Note: This is a big patch, please be patient as it applies. If the patching process seems to fail, you can click the "Delete Local Files" button in the settings and then install the build from scratch.
Launcher Updates
In addition to a new public build, there have also been some changes to the Mahou Arms Launcher:
Pledge rewards and Soul Retrieval Forms are now available from the Launcher
Some warnings have been added/moved to the user dropdown
Your Patreon avatar now shows in the app
Hope you like the changes. Let us know if you run into any problems.
Bleeding build 0.1.525
please use the patcher to update your version to it by clicking the gear and changing the channel to bleeding. This build releases a 98% done version of Story Mission into the wild! the last 2% will be revisited later. To access, select Start Game and then select 'MIS_ST_01'. The previous demo is also available by selecting the other option, TrainingRoom00. In addition, the gallery is now in (a bit buggy and missing in features at the moment, but at least it's in)
Other changes:
A ton of polish on Combat, hitboxes, some minor combo chain changes, AI, etc.
Various lighting tweaks
New Turret Enemy
New Hscene in the gallery. This one has multiple camera angles! Use RT and LT on a controller or 1 and 2 to switch angles.
Ton of work on game systems for Open World gameplay
Probably a lot more, it's been nearly 200 revisions since the last bleeding build.
Known bugs:
Currently gallery lists the hscenes with "…" instead of names. Clicking on them will still lead you to the scenes, it's just the names that are broken.
If an enemy is below Amelia and she shoots her pistol, the recoil can perpetually propel her upwards until she breaches the heavens.
Enemies will keep bouncing above Amelia if they land directly above her.
Probably a lot more
v0.0.256 & v0.0.257
Builds
0.0.256 (censored)
and
0.0.257 (uncensored)
are now available via the launcher! The standalone version of the censored build will also be up in a couple hours.
The
Transformation system hasn't made its way into this build yet
as there are still things to fix.
Here are the changes / fixes for this build compared to the previous bleeding build (0.0.215):
major polish pass on all Combat animations (WIP)
balance on all attacks
Combat sound polish / placeholder replacement (WIP)
quick optimization pass on the cube enemies, more to come later.
Sliding has been almost completely removed and replaced with root motion in animations
fix the lock on victory screen issue
fix the kick/punch throwing the hitbox
fix wrong settings reported on first run of game
added a cheaper, bone-based semen painting system until some stability issues with the previous system can be resolved
And here is the changelist compared to the previous demo build (0.0.206 & 0.0.207):
Changes:
Battle Damage skins added. Dropping down to 75%, 50%, and 25% health should now progressively remove more pieces of Amelia's clothing.
Basic Gallery Mode for the H-Scene. To access, select HScene from the main menu. As not even global savegames work yet, this is always on for now. In the future, scenes will require an unlock, and there will be a scene browser.
Giving directional input during attacks should now only rotate the character instead of also moving the character. This helps a LOT with overshooting. Previous behavior scaled down the input vector length by 0.0001, which was a hacky solution that never felt quite right. This should make soft lock and attacking in general while providing directional input feel way better.
Full length version of the battle BGM implemented.
H-game Changes:
the time windows for the QTEs are increased from 1 to 2 seconds.
all the QTE inputs are now one button so your hand never has to leave the same position. (Y or DPad up for gamepad, Space or Enter for keyboard.)
The pink heart's radius has been increased by 50%.
Minor Changes & Bugfixes:
Fixed dialogue screens advancing very slowly when time is slowed down.
Corrupted Office Ladies now have 500 knockback instead of 2000 on their attacks.
character should no longer fly backwards occasionally during backflip
Ground pound should no longer activate when it's cancelled in midair once the character hits the ground again.
Corrected spelling/grammar errors
Outline for ADV text for improved legibility
Jump now cancels the same amount of things as Dash
Double-jump velocity is now more consistent
Soft lock aggressiveness has been loosened up slightly
Light attacks buffed
v0.0.206
Content:
Known Issues:
On the first run, the settings might report Ultra when the settings aren't actually on ultra. Lower then raise and re-apply settings to work around this
Occasionally Amelia's hair goes crazy during the H-scene.
There is some flickering when morph targets turn off momentarily during semen painting. This is a low level engine bug; a workaround solution for semen painting will be included in a future build, replacing the current semen painting implementation until the low-level engine bug is fixed.
Occasionally Amelia will fly backwards during the mid-air ground pound recovery when sprint parameters are set during the recovery animation.
Switching between keyboard/mouse and game-pad during the pause menu is not 100% intuitive yet, it doesn't detect mouse movement.
Censor squares sometimes show up even when completely obscured by something else.
QTE widgets only report correct inputs for game-pad
144Hz is not supported yet, but will be.
Key Features: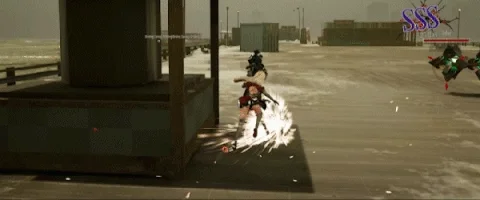 Smooth Character Action Combat – Control a magical girl and fight with a variety of moves to take out your opponents!
A Gripping Story – Follow the struggle of GARDA and get to know the magical girls you command, along with a number of other characters!
Three Playable Magical Girls (PLANNED/COMING SOON) – Experience the unique movesets and playstyles!
Base Building & Socialization (PLANNED/COMING SOON) – Expand your base and get to know the characters and world of Mahou Arms!
Exciting Boss Battles (PLANNED/COMING SOON) – Fight unique bosses with interesting backstories!
Early Access Information:
Why Early Access?
We are a small independent game developer and without support from those who wish to see Mahou Arms reach completion we are less likely to succeed.
By launching on Early Access, we hope players will try our game and support its development by sharing it with others and providing feedback. More support means more content faster.
Approximately how long will this game be in Early Access?
We've been working on Mahou Arms for around two years now (since 2018) and we expect it will take at least another two years (2022) before we have a game that we're satisfied with.
How is the full version planned to differ from the Early Access version?
We have plans to add more missions and more playable characters in the short term, as well as slower-paced GARDA base sections dedicated to getting to know the characters and world of Mahou Arms.
What is the current state of the Early Access version?
Right now there are two main story missions and a simple side mission. Amelia is the first playable character in the game and her moveset is complete.
It should be noted that all of the content in Mahou Arms is custom. This includes the models, animations, music, sound effects, etc.
Will the game be priced differently during and after Early Access?
Yes. During early access the Mahou Arms will be around 25% cheaper.
How are you planning on involving the Community in your development process?
We will monitor the Steam forums for feedback and bug reports, but we encourage players to join our Discord channel where we can communicate with them more directly: https://discord.gg/uc5Njsy
Fan Forum Signature: