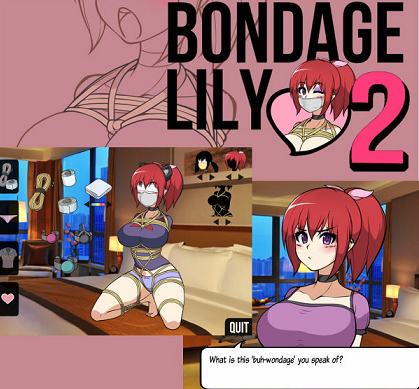 Overview:
Bondage lily 1
Bondage Lily 1, is a Sandbox-y bondage "toy" in which you tie up, gag, and play with the eponymous character, Lily.
– The game starts with a brief, funny dialogue scene where Lily talks to you and asks you a few questions, calling you by name. (This can also be skipped at any time by pressing the S key.)
– In the bondage scene, bind and gag Lily as you please, using rope, tape, scarves, etc.
– Literally hundreds of different possible gag combinations! Gags can be as much as 8 layers thick and include a variety of items — experiment!
– Interact with Lily in various other ways, including
Groping
, kissing,
Spanking
, blindfolding and dressing/undressing her.
– Lily "mmph"s, squeals, blushes, and changes
Facial
expressions in response to your actions.
Bondage Lily 2
Bondage Lily 2, like its predecessor, is a Sandbox-y bondage "toy" in which you tie up, gag, and play with the eponymous character, Lily. The game starts with a brief, humorous exchange of dialogue with branching choices; then comes the fun stuff.
New features include:
– Changing bondage "styles" allows for greater variety in rope bondage patterns
– OTN tape gags
– Costumes
– Alternate hairstyles
– Socks/stockings
– Harness ballgag
– Orgasms
– Underwear
– Cloth Hoods
– Headscarves
– Other stuff!
And of course, this is all in addition to a new and improved version of the original Bondage Lily's complex layered gagging system. Including stuffing and hoods, gags can now be as many as ten layers thick. Hot damn!
Thread Updated: 2023-09-17
Release Date: 2023-08-23
Developer: Jam Orbital – Website
Censored: No
Version: Vol 3 – 1.1.1
OS: Windows
Language: English
Genre:
Installation:
1- Extract to desired location.
2- Click on "bl 1/2.exe" to start playing.
Changelog:
Vol 3 – v1.1.1
This update also adds
two new outfits!
Electrical tape!
…and even bigger gags with a new third "level" of mouth stuffing!
I've drawn new versions of all the previous gags to match the new stuffer. Since this feature is for the true gag maniacs like myself, I made the new ones extra huge!
Even the biggest gags from the original version look downright small compared to the new ones. And you can even go a bit further than that: using the cloth one more time on a six-layer, triple-stuffed gag adds a unique, extra-massive layered cloth gag! Try it out and see!
I hope you'll have lots of fun with this super-stuffed upgrade to Bondage Lily 3!